How to effectively organise on-site training seminars and workshops
Giving trainings requires far more than simply creating one. We should not overlook all of the preparation that goes into just giving a training! In this blog, we will explain how we organise our trainings and how you can do the same!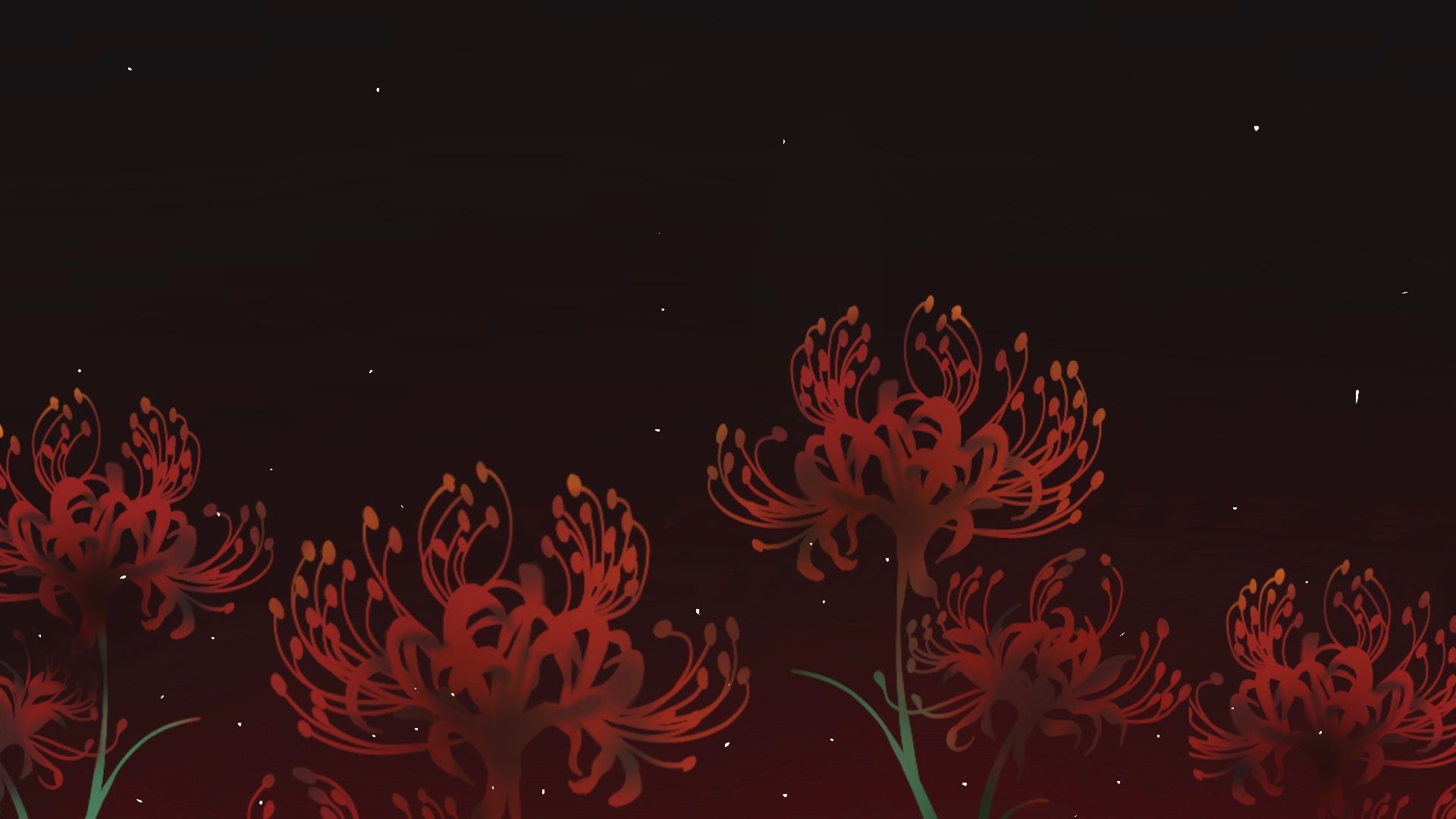 Training seminars give employees and members of professional organisations the opportunity to learn new business and industry techniques, that will benefit them in their professional career.
Find out how we handle our on-site trainings!
Participants
Information gathering
Obviously, you must collect all of the training participants' information. Your contact person should provide you with a list of names and email addresses of those who will be attending your training.
Ideally, the person providing the information should also give the participants' phone numbers so that you can contact them in the event of an emergency or a sudden change in the schedule. Because how else will you be able to contact the attendees and provide them with the information they require?
Logistics
What is a logistics mail, exactly? It is a message you send to the participants in order to provide them with the answers to the following questions: Who, What, Where, When, and How, and additional information on who to contact in the event of an emergency. As well as questions for participants to answer in order to gather as much information as possible to ensure that the preparations go as smoothly as possible.
This is what I typically put into a logistics mail:
Date and Time: the date and time of when the training is happening
Location: the location of the venue
Accessibility: how to get to the venue; this can include nearby parking, which lines of public transport to take or even a map with the route
To bring: what the attendees should bring in order to be able to follow the training efficiently
Dietary Restrictions: if you are offering food, drinks, or snacks, you must know whether the participants have any dietary restrictions! You don't want to dissatisfy anyone by not providing something tailored to their needs. Some examples include: vegetarian, vegan, halal, gluten-free, lactose intolerance, and so on. I always include a short Google Form for the participants to fill in!
(Phone number): in case the person you initially had contact with did not give you (everyone's) phone number(s), you can ask the participants directly
Contact Information: always give your own name, e-mail and phone number so they can contact you if needed
Here you can find an example of one of our logistics and information mails, tailored to Mirahi's trainings.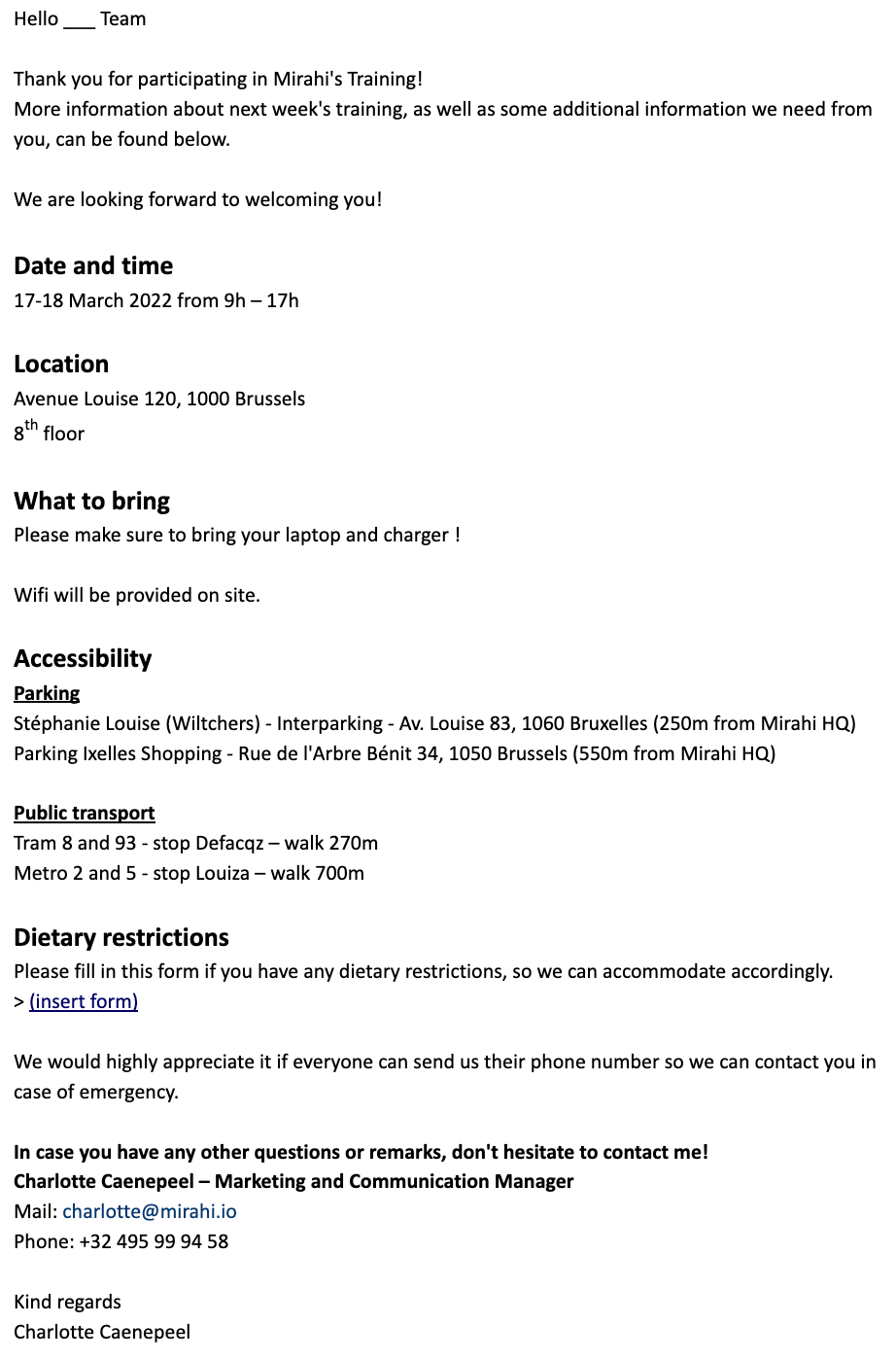 The Venue and its preparation
The venue itself is quite important; it must look nice, inviting, and professional at the same time.  The right venue ensures that your training is flawlessly executed and that your guests are surprised by their experience, resulting in a good impression of your company.
But what has to be present in a venue? How do you give the participants the best training experience they can wish for? And what can be prepared in advance?
Seats and tables: if your training requires participants to sit down to work or brainstorm, it is obvious that seats and tables are required (or desks). There is, however, a significant difference between plastic chairs and nice office chairs; you already know which one you would prefer if you had to sit down for an entire day! Of course, make sure there are enough of each; you don't want some of the participants to be forced to sit on the floor.
Branding: make it so the venue is branded to your company, you wouldn't want people to think they are at the wrong location or in the wrong place if they see logos and branding of another company. Set up banners and make the venue tailored to your branding! People may take photos or videos to post on social media, and it's nice to see some recognisable brand items in those photos or videos.
Setting up all necessary devices and items: to avoid wasting time on the day of the training, it can be helpful to have all of the necessary devices and items set up ahead of time. You wouldn't want to waste time setting up the beamer if you could do it beforehand or waste time moving tables and chairs!
Signs: make sure the participants know where your venue is located, especially if it's inside a large building! Put up signs to indicate where they have to be.
Food and drinks: of course, you can't prepare all of your food ahead of time, but for some foods, it is possible! Cookies, fruits, and yoghurt, for example, can all be stored in the refrigerator. The same is true for beverages! Simply store them in a cool place and you're ready to go!

If you plan on providing lunch (that isn't a buffet), make sure you have prepared food options for the participants. Choose one food place and set up a table with all the options they can choose from, so all that is left to do from their side, is fill in their name next to the food they would like to have. Remember the dietary restriction form? Make sure to check it, so you can offer options that are tailored to the participants needs!

! If the training spans several days, try to select one food place per day so that participants do not have to eat the same thing every day!

Wifi: if the participants require wifi to follow or execute the training, this must also be provided. If the wifi at your venue is not free to use, make sure to provide the password or generate a code so they can connect without difficulty.
The more you prepare ahead of time, the more relaxed you will be on training day! So try to save as much time as possible so you don't have to rush anything on the day itself! It also gives you some flexibility in case you forget something, allowing you to focus on fixing it rather than doing all the preparation you could have done ahead of time.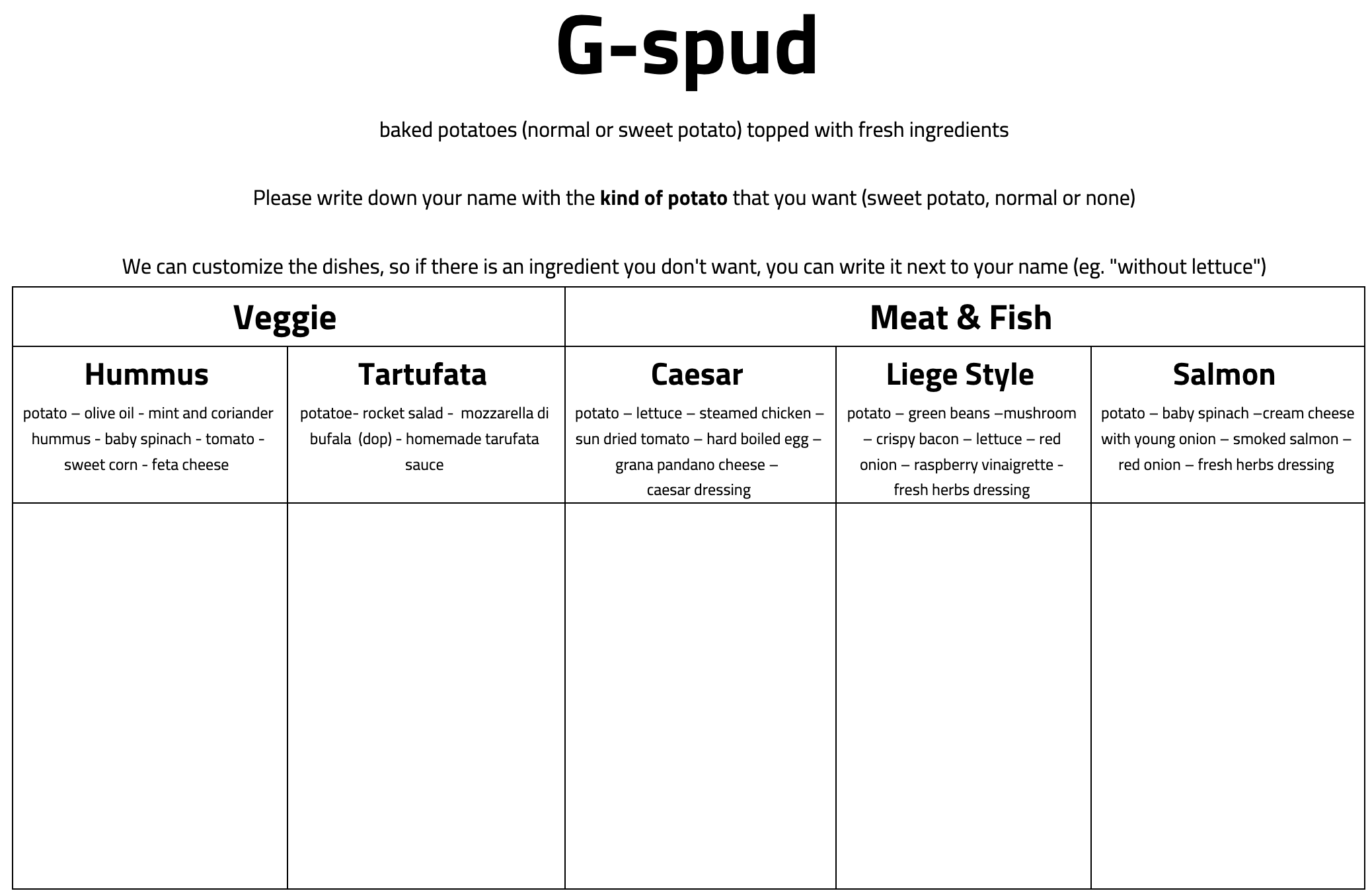 The day of the training
The big day has arrived! There are only a few things left to do thanks to all of the planning ahead of time. It is the ideal time to fix minor details that you may have overlooked or things that you weren't able to do during the preparations.
Breakfast and lunch options: some breakfast options could have been prepared in advance (fruits, yoghurt etc), but breakfast pastries should be freshly served!
If you prepared a table with all the lunch options (for one or multiple days), present them (all) in the morning during breakfast! You won't have to bother the participants during the training and you will have all the information necessary to place a food order in time!

Greetings: as the training's host, you should arrive at the venue before the participants. This allows you to greet them and show them around the venue, as well as the breakfast location. You can inform them about the day's events or already provide them with the wifi code!
Feedback and thank you mail
Participants' feedback can help you assess the effectiveness of your training and make improvements for future sessions. Post-training surveys are the most effective way to improve your training and ensure that it meets its objectives and provides good value for money. Collecting feedback will help you determine what changes to make to improve the effectiveness of your program.
It is recommended to send an e-mail with a feedback form (e.g., Google Forms), in which you can also thank the participants for being there, immediately after the training. The memory is still fresh, and the mail will not get lost in the mailbox. If people do not respond for any reason, it is not a bad idea to send them a reminder because receiving feedback is the most effective way of improving future trainings!
Conclusion
Making a seminar is one thing, but many people underestimate the time required to plan the actual training day. Preparation is essential here to avoid problems on the day itself. It will also make you feel more relaxed because you will not have to rush to get everything ready on the day of the training!